Biofruits gather and commercialize fruits and vegetables from 7 producers in organic agriculture for central Valais. We grow, sort, pack, store and distribute fruits and vegetables.
Since 1992, our founder Olivier Cordey started converting part of his crops to organic production. With 170 Ha of cultivated area and 4 millions kilograms of storage spaces, we are working every day to produce and distribute healthy and natural products.The short circuit distribution to the customers is also one of our main priorities. On the other hand, we create unique, non-standardized, organic, and Valaisan fruit juices with our press, compote and cereal bars, to make maximum use of our production.
Biofruits sells all its products at three physical stores around Sion, one online store and you can find it through different distributors.
At Biofruits, we strive, for all our products and services, to guarantee a fair quality/price ratio, in agreement with our producers, our customers, our partners, and our employees. We promote and maintain the cohesion of our team, encourage innovation, and promote production in harmony with the environment.
We also have a new facility called Drinklab. We help businesses and individuals improve the value of their fruit by helping them create drinks. Whether for a production line, recipe development, storage or distribution solution, Biofruits is here to support you in all stages.
Find out more:
Website: www.biofruits.ch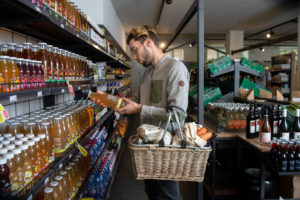 Webshop: www.biofruits-shop.ch
LinkedIn:www.linkedin.com/company/biofruits-sa/
Instagram: www.instagram.com/biofruitssa/
Drinklab
Website: www.drinklab.ch
LinkedIn: www.linkedin.com/showcase/swissdrinklab/