Bühler opens Insect Technology Center to support customers in the feed and food industries
SFNV member, Bühler Group, has officially opened its world-class Insect Technology Center (ITC). The facility combines Bühler's expertise with cutting-edge infrastructure to drive the development of the insect industry.
Accelerating insect plant projects
The Insect Technology Center (ITC) is designed to accelerate large-scale insect plant initiatives. The new test facility will allow Bühler's customers to demonstrate technological feasibility before investing in their own pilot plants. The team believes that seeing industrial insect technology in action will make it more tangible to customers who are interested in becoming active in this space. 
At the heart of the Center there are two insect growth chambers that mimic industrial production conditions. These chambers have a sophisticated climate control system and are equipped with numerous sensors. The data collected is used to optimize growth conditions to maximize production efficiency. The infrastructure can also be sent to any location, making it accessible to customers worldwide.
The facilities are currently designed to help insect companies, startups and food and feed companies to evaluate the feasibility of producing black soldier flies and mealworms as a sustainable protein source. They can also be used to conduct larvae growth trials with various feedstock, develop product samples, evaluate breed solutions, and run training sessions.
The ITC was funded by Switzerland's Federal Office for the Environment (FOEN), in recognition of its contribution to a more sustainable food system.
"The opening of the Insect Technology Center is a major milestone in our journey. Over the last few years, we have gained expertise and maturity to serve different customers in the insect industry with the most suitable and reliable solutions. With our new facility, we extend our services and can even better support our customers in installing an industrial insect plant," says Andreas Baumann, Head of Market Segment Insect Technology at Bühler. 
Contributing to a circular economy
The work of the Center will make a significant contribution to Bühler's sustainability targets around mitigating climate change and the creation of more sustainable food systems. In addition to insects being a healthy and sustainable source of protein for food and feed, their frass can be used as a fertilizer, contributing to a circular economy model of production.
The insect feed protein market is expected to reach half a million metric tons in 2030, with the pet food sector and aquaculture sectors projected to make up 30% and 40% of the total insect protein volumes respectively.
"We are devoted to supporting the industry in reaching its full potential. Over the last years we have gained maturity and built the skills for helping the industry to further develop. With proven technologies in our portfolio, we are ready to enable our customers in bringing insect-based products to the market," explains Andreas Baumann. 
Visit the Insect Technology Center at part of Bühler Networking Days 2022.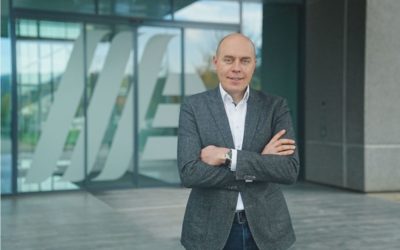 Jérôme Meyer is the Country Managing...
Join the Swiss Food & Nutrition Valley ecosystem and be partof the journey!