Allcook.kitchen: serving low-waste, chef-crafted meals to 1,000+ tables across Switzerland
Valley member Allcook.kitchen delivers low-waste, restaurant-quality meals to homes across Switzerland. A year after dispatching their first meals, the company is delivering to 1,000+ customers. We spoke with co-founder Sacha Thorey about the company's commitment to local food, artisan partnerships and low-waste ethos.

Describe your company in a single sentence.
At Allcook.kitchen we deliver high-quality, restaurant-grade meals that are healthy and delicious, in innovative, low-waste packaging, to customers on a weekly basis.
What inspired you to launch your company?
Before our service launched, chef-cooked meals at home were only attainable for wealthy customers who could afford a private cook. We wanted to change that through a direct-to-consumer subscription model and vacuum-packing technology to guarantee freshness and flavour.
What gets you out of bed in the morning?
Three things. The tremendous responsibility that comes with feeding over 1,000 Swiss households. The fact that we're producing food that is local, sustainable and low-waste. And the great feedback we get from our customers. One review simply stated: "Thank you for existing". That was pretty motivating!
What's different about your service?
We believe that plant-based nutrition is the future – and that businesses play an important role in helping consumers to shift their nutritional habits. In behavioural science, they call it "removing friction". If someone wants to make a change, solutions should make it as easy as possible to do so. Only 5% of our customers are vegetarians, the rest are omnivores. But our meal choices are 40% vegetarian and vegan. We aim to create delicious plant-based recipes that even meat lovers will choose and enjoy.
What are you and your team working on at the moment?
We are almost constantly in 'developing new recipes' mode. We offer menus that change weekly, so we have to strike the delicate balance between food that works for weeknight meals and dishes that treat our clients – something that they can't cook themselves.
Packaging innovation is also a big focus. We recently launched meals in compostable vacuum sachets made from corn. This allows customers to dispose of the packaging at home in an environmentally responsible way, while ensuring that meals retain their natural flavours and moisture.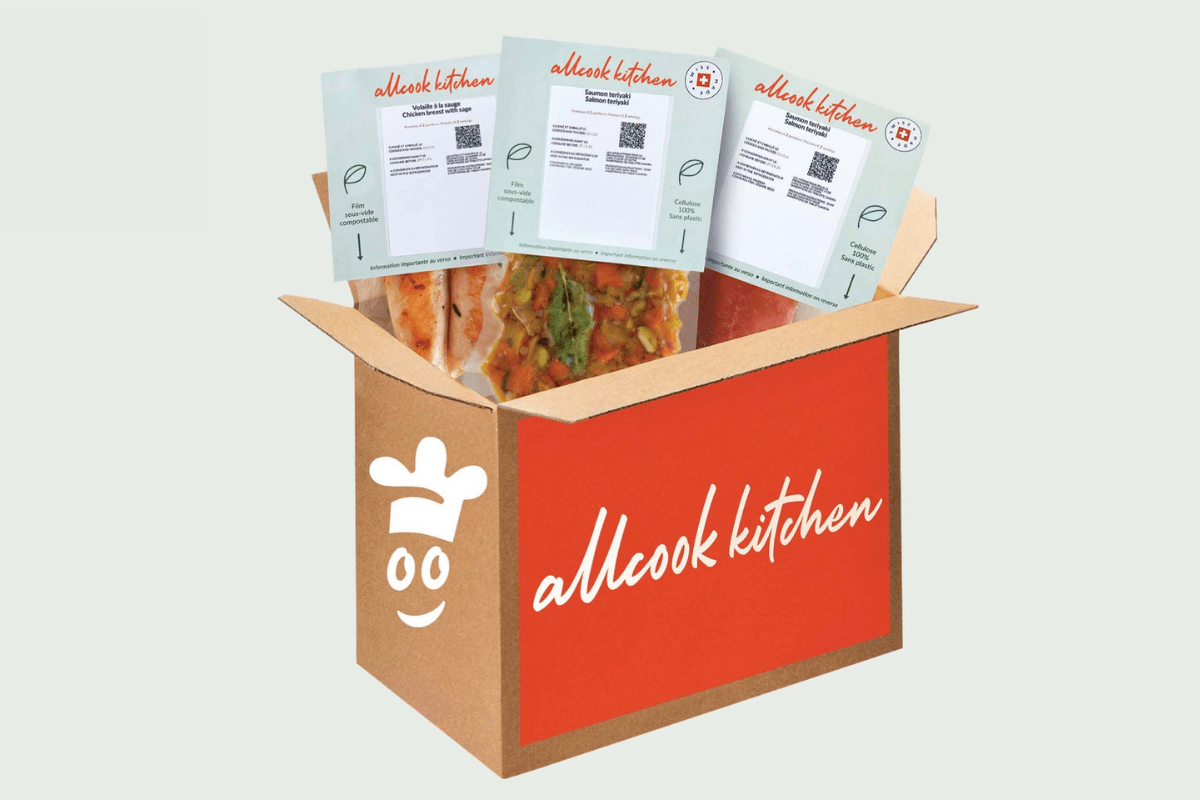 What have you learnt in the last 12 months?
It's important to have the right mix of skills in your team. We're really fortunate here – my co-founder (and husband) Benoit has the culinary skills, Andrey takes care of web development and I lead on marketing. We've also learnt to iterate quickly based on customers' feedback and achieve more with less.
Tell us about how you collaborate with others in the Swiss ecosystem.
We want to use Allcook.kitchen as a platform to showcase innovative local suppliers. For example, we partner with Terra Soja, an organic tofu brand made in Vaud. The chef, Madam Kim, combines traditional Korean cooking with exceptional Swiss quality. We see this as a real win-win situation. Artisan producers get to boost the visibility of their products and reach consumers across Switzerland, and we get to treat our customers to the latest, tastiest, locally-made products.
What support could the SFNV community offer to help you achieve your goals?
We're keen to build a meaningful network with like-minded people who are passionate about nutrition and minimizing food and plastic waste. As the year progresses, we'll also be looking for funding to scale. We'd love to hear from anyone interested in finding out more about what we do.
Share something we didn't know about your company.
The subscription business model allows us to plan our production cycle up to one portion precision. As a result, we're proud to say that we produce no avoidable food waste. As we scale, we should also be able to reduce waste in the value chain below us.
Connect with Sacha on LinkedIn or find out more on the Allcook.kitchen website.
In their fifth annual collaboration,...
Join the Swiss Food & Nutrition Valley ecosystem and be partof the journey!