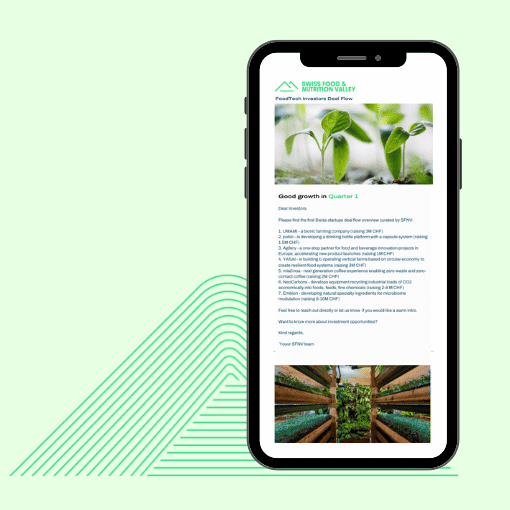 Capital at risk: investing in startups and early stage businesses involves risks, including illiquidity, lack of dividends, loss of investment and dilution.
Switzerland has a well-established food and beverage industry and has emerged as a leading hub for FoodTech innovation. Swiss FoodTech attracted almost CHF 87 million in investments in 2022 (Top 100 Swiss Startups), and seed investments are booming at +93% (Swiss Venture Capital Report)
Swiss consumers are willing to invest in new products that relfect their values and Switzerland's geographical density makes it a fantastic test market for growing companies – and a perfect gateway to Europe.
At the same time, our unique food innovation ecosystem drives knowledge transfer between large enterprises, academia and startups – and can help first time investors to get off the starting blocks.
Our FoodTech Investor Deal Flow connects Swiss and international investors with the latest Swiss seed to series A opportunities. Find out more about the companies seeking investment and sign up for updates by email below.
Invest in Swiss FoodTech Innovators
The Valley partners below are actively seeking seed to Series A investment.