Embion is selected as a Technology Pioneer by the World Economic Forum
Valley member Embion has made it their mission to catalyze the world's transition to zero wasted resources. To do this, they specialize in upcycling industrial food production by-products through their platform technology. This week they were selected to become a World Economic Forum Technology Pioneer.
The story so far
Embion founders – Georgios Savoglidis, Sviatlana Siankevich and Georgios Fengos, share a common vision of using smart technology to catalyze the world's transition to the sustainable use of food resources.
The company – an EPFL spin-off founded in 2016 – aims to harness the best of nature and accelerate next-generation nutrition innovation for all, empowered by its platform technology, while addressing sustainable development through cutting-edge innovation in plant-based technology. It enables the production of highly functional ingredients from biomass for animal nutrition, food and beverages, nutraceuticals and cosmetics.
After securing seed funding from strategic investors from Switzerland, United States and Asia in 2019, Embion registered its first product, PREMBION, in the EU market in 2020, designed to pave the way to antibiotic-free farming and increased feed efficiency. In 2021 the team went on to close a successful CHF 4.5 million Series A funding round, led by global brewing group ASAHI Group Holdings Ltd., allowing them to grow their team and scale their production capabilities.
Becoming a Technology Pioneer
The World Economic Forum's Technology Pioneers are early to growth-stage companies from around the world that use new technologies and innovation to tackle the world's most pressing issues – from sustainability and climate change to healthcare.
This year's cohort includes start-ups from 30 countries, with Vietnam, Rwanda and Czech Republic represented for the first time. Embion was selected in recognition of its contribution to empowering access to next gen nutritional innovation.
Saemoon Yoon, Community Lead, Technology Pioneers at the World Economic Forum: "Embion and its fellow pioneers are at the forefront of industries that are critical to solving some of our world's most complex issues today. We look forward to their contribution to the World Economic Forum in its commitment to improving the state of the world."
CEO Georgios Savoglidis: "It's a great honor to be acknowledged as a pioneering company by the World Economic Forum. It is confirmation that the speed of technology development, commercialization and consumer adoption are pushing the wheels of innovation and that our platform technology can offer a new production method that provides for pure and stable products from a renewable source. Products that represent a new frontier in nutrition and health. We look forward to contributing to the Forum dialogues on this challenge."
What's next?
As a Technology Pioneer, Embion's CEO Georgios Savoglidis will be invited to participate at World Economic Forum activities, events, and discussions throughout the year. Embion will also contribute to Forum initiatives over the next two years, working with global leaders to help address key industry and societal issues.
In the coming months, Embion is now planning to build on their successes by connecting with like-minded investors who can help them further scale their work and collaborate with corporate partners to create joint product development projects in the food and feed industries.
Find out more on the Embion website.
Interested in food system digitalization?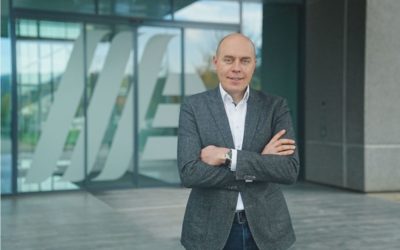 Jérôme Meyer is the Country Managing...
Join the Swiss Food & Nutrition Valley ecosystem and be partof the journey!