How FOOD2050 is enabling food service partners to reshape our food system, one meal at a time.
Back in 2019 Christian Kramer spotted an opportunity. Restaurants wanted to create more sustainable menus. Consumers wanted to make greener choices. And both were looking for support to help them in this process. This is exactly the gap that Christian's new venture, FOOD2050, aims to close.
Hello. Tell us a bit about yourself.
I'm Christian Kramer, CEO & Co-founder at FOOD2050. I'm a restaurant industry veteran who is passionate about global food system transformation.
Can you pitch FOOD2050 in a single sentence?

FOOD2050 promotes more sustainable food systems by rating and optimizing food service sector recipes, enabling better consumer choices and making it easy for businesses to achieve their sustainability goals.
How did you come up with the idea behind FOOD2050?
Back in 2019, I was involved in introducing the Beyond Burger in Europe. Throughout this process, it became really clear to me that consumers were ready for more sustainable solutions in the hospitality sector. 
I started talking to food service sector colleagues about what sustainability meant to them. Everyone recognised that there was a market need and that consumers wanted clear and robust information to help them make better choices. But no one had the time to figure out their own solutions.
So together with my business partners, Adrian Hagenbach and Leopold Weinberg, we came up with the idea of creating a platform that allowed restaurants and caterers to connect their sustainability goals with practical measures to achieve them – and help them monitor their progress. This seed then grew into FOOD2050.
What have you done so far?
Using a scientific database, we've created a system that evaluates food products for their environmental impact in Eco-Points (EP). This allows our partners to quickly and easily develop delicious recipes that also respect planetary boundaries. They can either choose recipes from our existing database or can use the FOOD2050 system to rate and optimise their own recipes. 
In January we launched a pilot project with the University of Zurich and ZFV, one of Switzerland's largest caterers. This allowed us to better understand the different ways to measure the impact of food we consume and explore how to make this information tangible and actionable for consumers. After testing out multiple options, we found that Co2 equivalent was the most common metric used in food service businesses and that consumers wanted to understand how that translates into environmental goals we are all trying to achieve. It feels more motivating: it links their choices to the goal of tackling climate change.
We also tested the best ways to share the information with consumers and tested which promotional channels were most likely to drive a change in behaviour.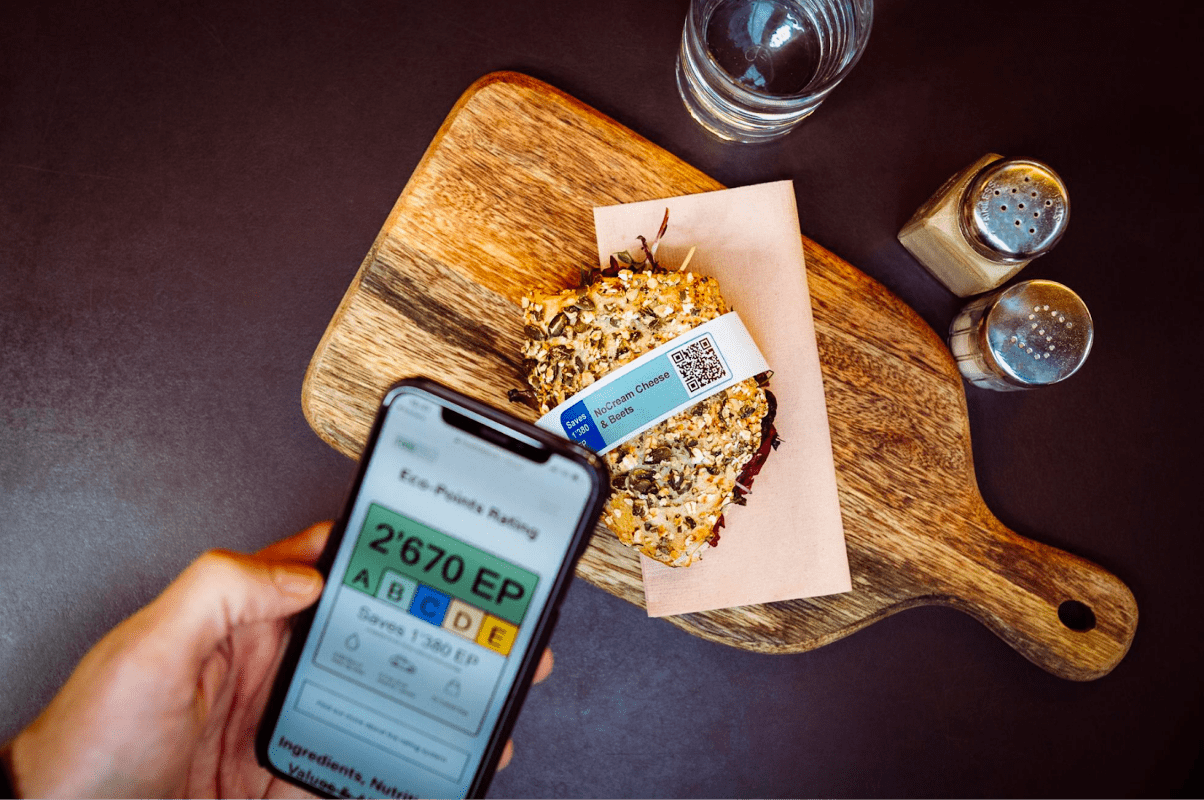 What are you working on right now?
We're looking to create software to help us scale our solution. This platform will make it easier for consumers to view and interact with product ratings, as well as providing content that promotes sustainable products and the producers behind them. Participating businesses will also have access to a monitoring dashboard that will track their climate impact over time. Commercial rollout is planned for 2023. We'd be really interested in connecting with other innovators developing software for the food service sector to learn from their experiences.  
Once we've created software that guides our recipe development we'll focus on creating food innovation with our partner Blue Horizon, who has been very helpful in facilitating the access to innovative producers with real environmental impact. 
Also, as a member of the EHL Innovation Village, we're looking to collaborate with other promising start-ups working on creating a sustainable food system to maximise our long term impact.
How do you see FOOD2050 developing in future?
Our solution is currently focussed on supporting caterers and manufacturers. But in the longer term, we'd like to be able to drive change across the whole food supply chain and share the data gathered with government colleagues to shape positive food and nutrition policies.
How can the SFNV community help you achieve your goals?
We've recently submitted a project proposal as part of SFNV's Impact Platform on sustainable protein to team up with other SFNV members to boost the impact of sustainable proteins within food service operations. We're eager to work alongside leading alternative protein brands, large scale food service operations, professional chefs and environmental specialists to develop a range of recipes that could be promoted in some of the largest food service operations in Switzerland.
These collaborations would then lay the foundations for an open-source recipe platform, where knowledge is freely shared between key stakeholders to drive innovation for environmental and human health.
Additionally, we want to apply the concept of the Planetary Health Diet from the EAT Lancet Commission in a national context and help to translate it from theory into practice. To make this a reality, we'll be looking to connect with relevant partners along the entire supply chain. 
SFNV recently launched its third Impact Platform on Food Systems 4.0. How do you see digitalization reshaping the future of food?
We see huge potential in using digital tools to enable food system transformation. In the short term, we can facilitate access to relevant food information to guide consumption choices and raise awareness of how much our diets impact our planet. In the longer term, we believe that data can help us understand the complexity of global food systems and reduce greenwashing to really drive the food revolution that we desperately need.
Tell us something we didn't know about your company.
Through our pilot operation with a fairly small food offer, we've enabled students at the University of Zurich to save a whopping 36 million litres of water since the start of this year. That's the equivalent of the water used in 1 million showers or baths! This demonstrates very clearly how food choices have a huge impact on our planet and that every individual can have an impact through their actions, however small.
Connect with Christian on LinkedIn or visit the Food2050 website to find out more. 
Got an idea for a collaborative project in this space?

Valley partner YASAI, a Swiss vertical...
Join the Swiss Food & Nutrition Valley ecosystem and be partof the journey!