Ice cream innovation from Geneva-based startup Konoï
Genevan company Konoï creates fresh frozen ice cream treats made from Cannabis sativa seeds. Their innovative process aims to reintroduce hemp – the "Royal Seed" – into Swiss diets.
Konoi's products are more than "just" ice cream. In addition to their gourmet flavors, their products are made from hemp milk, a unique artisanal product that the company is looking to reintroduce to Swiss diets.

"As well as being healthy and rich in protein, this plant-based milk is great for the environment. Hemp can be grown locally and requires  minimal water and no pesticides. Its production actually requires about ten times less water and CO2 compared to cow's milk," says Benoît Fanin, co-founder of Konoï, a startup based in Meyrin, Geneva. Alongside his partner Kumiko Kuwabara, Benoît has carried out several years of research and development, working between Switzerland and Austria to perfect their process. Their long-term objective has always been to create hemp-based treats to gradually reintroduce these nutritious seeds to our diets – starting with frozen sweet desserts.

"Hemp was one of the first plants that humans cultivated. Since the Neolithic era, it's been used for food and clothing, as a medicine and for making tools. The Persians even called it the "Royal Seed"." Unfortunately hemp was banned in the 20th century, due to its psychotropic properties. "Today, we're doing all we can to remove the stigma around hemp and show consumers its many benefits."
Producing white nectar
To produce hemp milk the organic seeds are harvested, mixed with water and ground. The mixture is then poured through a cheesecloth to filter the milk. "It's actually a very simple process," says Benoît.

The smooth white liquid has slightly 'green' taste, with a subtle touch of hazelnut. "It's a fairly neutral and discreet drink. We market it raw – unpasteurized – in order to preserve all its properties, contrary to the industry norm", he remarks, and estimates that there are roughly ten hemp milk producers in the world.

Once this step is complete, the liquid is infused for more than eight hours with different ingredients to create a selection of gourmet flavors, such as balsamic strawberry, ginger pear or even black sesame. The ingredients are then poured into moulds, moved into the freezer and packaged once frozen. The bright and colorful packaging was designed by Kumiko, his partner, who happens to be a professional designer. 
Changing mindsets
Given increasing awareness of the climate crisis and the growing popularity of veganism, demand for their products is certainly present – but many stereotypes still exist.

"Some adults are afraid to give hemp to their children, but the seeds are far from being a drug! When we created the company, banks weren't even willing to open a business account for us and we're still not able to do advertising campaigns on social networks. Mindsets need to change."

In addition to the legalization of CBD, the recent lifting of the ban on cannabis for medical use in Switzerland is helping to revive the Swiss hemp industry. Konoï also recently became a Swiss Food & Nutrition Valley member. "This gives us credibility both in the food industry and with customers. It's a great step forward." 

But Benoît and Kumiko do not intend to stop there. In addition to their frozen desserts, they also produce multi-functional pancake mix and herbal teas and are planning to launch a range of sugar-free biscuits and a plant-based milk concentrate in the autumn, with a view to becoming market leaders. "This plant played a central role in the development of our societies. It is time to give it the credit it deserves, as part of a healthy, sustainable and local food supply chain.
About the producers: Benoît Fanin and Kumiko Kuwabara
While studying Education Sciences at university, Benoît Fanin ran a small shop specializing in ethical consumption, where he sold, among other things, hemp seeds. "Initially, I was making milk for my personal consumption, then I decided to transform it into a business." With the support of his partner Kumiko, originally from Tokyo, Japan, the 40-year-old developed his first ice cream in 2014, before founding his company three years ago. Today, the brand's products are available in around twenty points of sale, from Geneva to Vevey.
Connect with Benoît Fanin on LinkedIn or find out more on the Konoi website. 
This article was originally published in French by Terre & Nature. 
Text: Lila Erard
Photos: Nicolas Righetti/Lundi13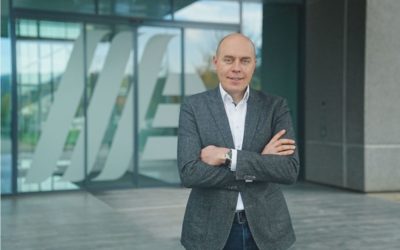 Jérôme Meyer is the Country Managing...
Join the Swiss Food & Nutrition Valley ecosystem and be partof the journey!