An interview with Yasemin Sharityar, Head of Impact Platforms
Over the last four months, SFNV has launched its first Impact Platform on Precision Nutrition. We caught up with Yasemin, Head of Impact Platforms SFNV, to find out more about what's happened so far and hear about the four additional platforms we'll be launching in 2022.
What are the SFNV Impact Platforms, exactly?
Impact Platforms aim to unleash purpose driven innovation for better planetary and human health. We come together in different formats to collaboratively discuss and work on impactful ideas. It's about harnessing the power of the Swiss ecosystem, creating synergies and doing things that none of us can do on our own. In 2021, we've held a series of events on the topic of precision nutrition to scope out the first of our five Impact Platforms.
Which events have you held so far?
Our first event brought together all members with a shared interest in precision nutrition. This gave us the opportunity to discuss the fundamentals of the topic. It soon became clear that there's no established definition of "precision nutrition" or "personalized nutrition" (yet!) and that these terms are often used interchangeably. Our second event was an open invitation Round Table. We invited three expert speakers from Nestlé, Terra Lumina and LOEWI to share the work they're doing in this space. We then followed up with two Garage events.
What did you do in the SFNV Garages?
The SFNV Garages are where the real work happens! Supported by McKinsey & Company we organized two Garages. In Garage #1 members defined a broad, common vision for the Impact Platform and identified current challenges and gaps. Then, in Garage #2, we transformed these into opportunities. The session identified 15 concrete project ideas, ranging from a cohort study and digital apps to the creation of a nutrition registry. We were thrilled that more than 20 members from a diverse range of backgrounds got involved. There was so much energy in the (virtual) room! Everyone was eager to collaborate and find new ways of moving the needle on this important topic.
What are your plans for 2022?
In January, we'll be holding a series of project kick-off meetings with members who have expressed an interest in leading, contributing to or supporting the identified projects. We'll work together to define what success would look like, assess potential project impact and agree key milestones. When the projects have started to take form, we plan to invite all SFNV members to a pitch event to give project teams feedback and share the skills, knowledge and resources to make them a success.
Building on these learnings, we'll also be launching four more Impact Platforms later in the year on Sustainable Proteins, Food Systems 4.0, Future of Farming and Sustainable Packaging and working alongside members to create collaborative innovation projects around these verticals.
How can SFNV members and the broader Swiss food ecosystem get involved?
You can find out more about the SFNV Impact Platforms here. We'll be sending out e-invites to members-only events, but we'll also be organising some sessions that are open to all ecosystem actors. Follow us on LinkedIn to get the latest updates. If you're looking to develop a project in one of our areas of focus or have knowledge or expertise to share, please do get in touch. I'd love to hear from you.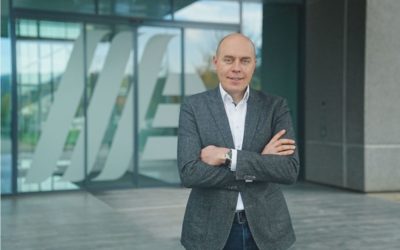 Jérôme Meyer is the Country Managing...
Join the Swiss Food & Nutrition Valley ecosystem and be partof the journey!