Quantis launches Food Report to cultivate a sustainable and resilient food system
Quantis's latest "Dig In" report serves up as guidance to help companies at every stage of the food and beverage value chain to understand the most pressing food sustainability challenges; define strategic opportunities and prioritize actions; and set the bold environmental goals that will cultivate food system sustainability and business resilience.
Featuring 100+ pages of insights, 10+ case studies and interviews, and 18 useful infographics, the report delivers sustainability managers, executives and key corporate decision-makers a high-level vision of today's food sector landscape, providing insight from Quantis' deep contextual understanding, scientific expertise and extensive experience in food sustainability. 
Transformation of the food system is the strongest lever we have to limit global warming to 1.5°C by 2030, protect food security, and ensure the food and beverage sector continues to thrive in a resource-constrained world. 
Food-related activities account for an estimated 28% of global GHG emissions (estimation extrapolated by Quantis and calculated at 27.6%) and are key drivers of water scarcity, biodiversity loss, land-use change and eutrophication. Shifting current production and consumption models to align with social and planetary boundaries is vital for building a resilient food system and ensuring companies continue to thrive in a resource-constrained world. 
Companies at every stage of the food value chain need ambitious sustainability goals and strategies based on robust metrics and science that fit into the wider global context. Dig In maps out how to do just that. 
Full of insights, interviews and business cases from industry leaders and sustainability experts, including Unilever, Mars, General Mills, Friesl and Campina, Bel Group, Del Monte Foods, Inc., WRAP UK and WRI, Dig In carves out a recommended pathway for businesses to become resilient and sustainable companies. This view will enable food and beverage players at every stage of maturity to map their strategic journey, prioritize topics and implement solutions to accelerate food system transformation.
The report digs into the most relevant issues for the food sector in an effort to help companies cut through the buzz and focus on the topics that will make a meaningful difference:
+      Science-based targets and planetary boundaries
+      Natural climate solutions, deforestation and land-use change
+      Soil health and regenerative agriculture
+      Innovation: product, packaging, and plastics
+      Food loss and waste
+      Water stewardship
+      Sustainable procurement
+      The power of authentic storytelling
+      Metrics-driven decisions and strategies
A formidable challenge lies ahead, yet if we get equipped with the understanding and tools, building a resilient food system that optimizes both planetary and human health is mission possible.
Learn more:

Watch our webinar with WWF and Mars for insights on transforming our food system.
Got questions? Let's talk! Contact our team at digin@quantis-intl.com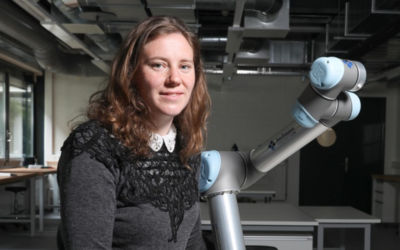 Robotics and AI offer huge potential...
Join the Swiss Food & Nutrition Valley ecosystem and be partof the journey!