REM Analytics: Uncovering new applications in microbiome, certification and food safety
A science is only as good as its measurement tools. Based in Monthey (Canton of Valais), REM Analytics offers solutions for measuring genetic composition in mixed DNA samples. 
DNA analysis, particularly when applied in microbiome, has the potential to provide breakthrough solutions in countless industries. Swiss startup REM Analytics is looking at microorganisms through the lens of DNA to uncover new opportunities in personalised nutrition, precision medicine, food authenticity, agriculture and more.
We sat down with founder and CEO, Dr. Paulo Refinetti, to ask three questions about what they're working on.
SFNV: What's the founding story behind REM Analytics; and what made you pick this specific field of innovation?

Dr. Paulo Refinetti: REM Analytics started as a company at the end of my doctoral research project at EPFL with co- founders Prof. Stephan Morgenthaler, Dr. Anna Surowska and Dr. Per Ekstrom in 2017, but the underlying inspiration comes from the work done in the 1980's by our friend and mentor Prof. William Thilly on Cycling Temperature Capillary Electrophoresis (CTCE).
I am a statistician, and during my PhD I was attempting to model cancer and tumour growth in humans. This was difficult, but the problem was not in the modelling or statistics the project involved; the challenge came from the lack of sufficiently accurate data. It was at this point that I realised that the measurement tools we use in life science do not provide us with the quality data we require, and this is the limiting factor on much of scientific progress. My PhD supervisor and co-founder, Prof. Morgenthaler, introduced me to the work of Prof. Thilly on CTCE, which is a method for detecting, characterizing and quantifying variations in genetic sequences using mutational spectroscopy. This realization that we can find genetic mutations struck me as something very powerful, and I was convinced that CTCE could become the measurement tool that was missing in biotech. At this point the idea and technology was raw, so I worked with Stephan and Per on enhancing CTCE with bioinformatics and robust mathematical models, and with Anna on putting all the pieces of the 'business puzzle' together to launch our technology as a company.
CTCE, following all our innovations and improvements, became what we like to call Advanced Testing for Genetic Composition (ATGC). ATGC is the DNA-analysis platform we're based on, and it provides the most advanced method of genetic analysis available. The result is REM Analytics. 
Tell us more about the solution you're developing: at what stage of product development are you?
P. R : DNA analysis, particularly when applied in microbiome, has the potential to provide breakthrough solutions in countless industries. If we start looking at organisms or microorganisms through the lens of DNA, there are opportunities to offer new solutions in personalised nutrition, precision medicine, skincare, food authenticity, bioprocess management or even agriculture. The exciting thing is that these fields of research are still largely unknown and undiscovered. This genetic information available to companies in pharmaceuticals, food, agriculture and cosmetics is a valuable strategic asset. By fully leveraging this information, leading companies can gain a competitive edge while maximising the success, efficiency and Net Present Value (NPV) of their R&D projects. REM Analytics' provides an end-to-end research & development service to do just that. We translate raw biological samples into actionable data that is user-friendly for research teams.
Our research and development service is unique due to the capabilities of ATGC, our proprietary genetic measurement platform. ATGC does not use sequencing and thus can achieve a high-throughput, strain-level resolution and unrivalled quantitative accuracy. It is also highly versatile, allowing us to customize the analysis to your specific questions. Providing solutions always begins with us listening. We extensively discuss with our partners to understand their objectives and challenges and we tailor our analysis accordingly. Then we run the customized analysis from our fully operational labs in Monthey, Switzerland.  
What's coming next for REM Analytics ? 
P.R : Our main focus over the coming months will be to successfully complete the series of projects we are currently running with various partners. These projects have been a great opportunity for us to really adapt our technology and experience to diverse fields of application, and fine-tune small features of our analytical platform, notably the IT back-end. We are also looking forward to meeting and discussing with leading, innovation-driven companies and institutions who are seeking to improve their R&D efficiency and integrate cutting-edge biotechnology to differentiate and prove the efficacy of their products.
Over the long-term, the vision is to scale our capabilities, by developing more core technologies that can be deployed to other domains of life sciences. These would be developed as our own solutions and would be spin-offs of our model and technology.
Find out more:
REM Analytics is located in the BioArk in the Swiss canton of Valais, a region with a long tradition in life sciences.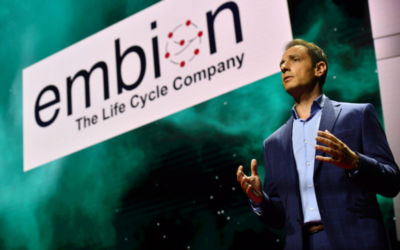 Valley member Embion has made it their...
Join the Swiss Food & Nutrition Valley ecosystem and be partof the journey!