SFNV launches a new Impact Platform on Food Systems 4.0
On June 9, food innovators from around the globe came together to explore the opportunities and challenges around Food Systems 4.0. SFNV is now inviting members to submit collaborative project proposals to spearhead purpose-driven innovation in the smart food era.
Food system digitalization

SFNV Impact Platforms are how members come together, inspire and learn from each other, then collaborate to unleash purpose-driven innovations that solve the burning issues we face today. On June 9, we held an online event for everyone in the food innovation ecosystem in Switzerland and beyond to discuss the opportunities, challenges, and real-world examples in Food Systems 4.0.
We had four excellent speakers onboard, with attendees from countries including the UK, Turkey, India and Brazil. The overarching message was that the food industry needs to transform to feed a growing global population in a time of climate change and economic upheaval. However, we have the tech and the knowledge to make it possible.
Watch the replay below or read on to find out more about this enlightening and inspiring event.
Monitor Deloitte: Winners coordinate vertically throughout the value chain

Our first speaker was Ben Ninio from Monitor Deloitte. Ben started by laying out the challenge in stark terms. There will be 10 billion people in the world by 2050. How will we provide them with healthy, nutritious food with 33% less arable land and a polarized economy? But despite this context, Ben sees light at the end of the tunnel.
'Agriculture, specifically, is the biggest opportunity for carbon sequestration at the lowest marginal cost of abatement that we see across any industry. So it's really up to us.'
– Ben Ninio, Digital and ESG Transformation Managing Director, Monitor Deloitte
When Ben speaks to clients, it's clear that the companies that will win in the smart food era aren't the ones with the best branding or best data capabilities. Instead, the winners will be the ones who can coordinate vertically up and down the value chain and engage with non-traditional partners. Digital and data can make it happen, but it will take more. We need to open our minds and be more flexible about how we work together to execute.

Scantrust: QR codes help gain insight into the supply chain
After Ben gave us the big picture, Ricardo Garcia from Scantrust took us to a small, focused part of the supply chain ecosystem. Scantrust uses QR code technology to provide supply chain insights for stakeholders and consumers alike. For example, Scantrust created a QR code for Melitta coffee that shows the consumer exactly which farm their coffee beans come from.
'Each product has a unique QR code. It gives each product a fully traceable supply chain to demonstrate to their end-users where exactly it comes from, down to the name of the farmer.'
– Ricardo Garcia, Director of Sales and Partnerships DACH, Scantrust
Scantrust's QR codes can also help fight the scourge of counterfeiting and build brand engagement with the consumer. For example, Baia wine drinkers love to see the story of how their wine was made and came to be at their table. Scantrust makes it possible. From a climate change standpoint, QR codes allow consumers to see how much CO2 was used in the production process.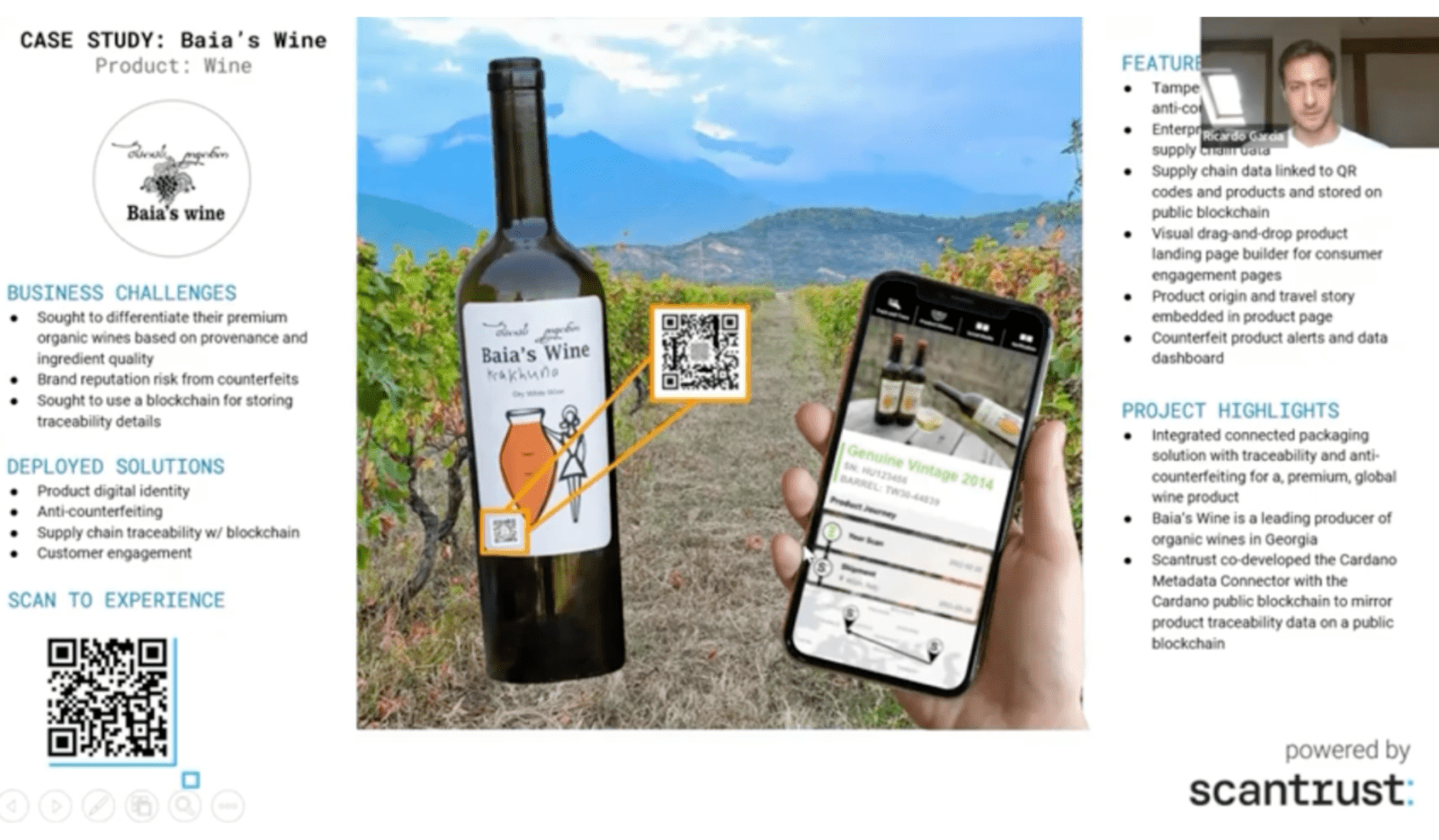 Givaudan: Smart people and smart technologies enabled with digital solutions
Our next speaker was Gilles Halotel from Givaudan, a global leader in creating flavors and game-changing innovations in the food and beverage industry. Gilles spoke about the need to move forward into the smart food era and the tech that enables us to do it.
'We all know how the world is changing fast, faster than ever. We are all impacted by market trends. We also need to be ready for the unexpected'
– Gilles Halotel, Global Head Procurement Innovation, Givaudan
The good news is that solving global problems is a business challenge with a business need, so business will find solutions to make it happen. However, we need to keep in mind why we do what we do and grasp the opportunity to make the world better.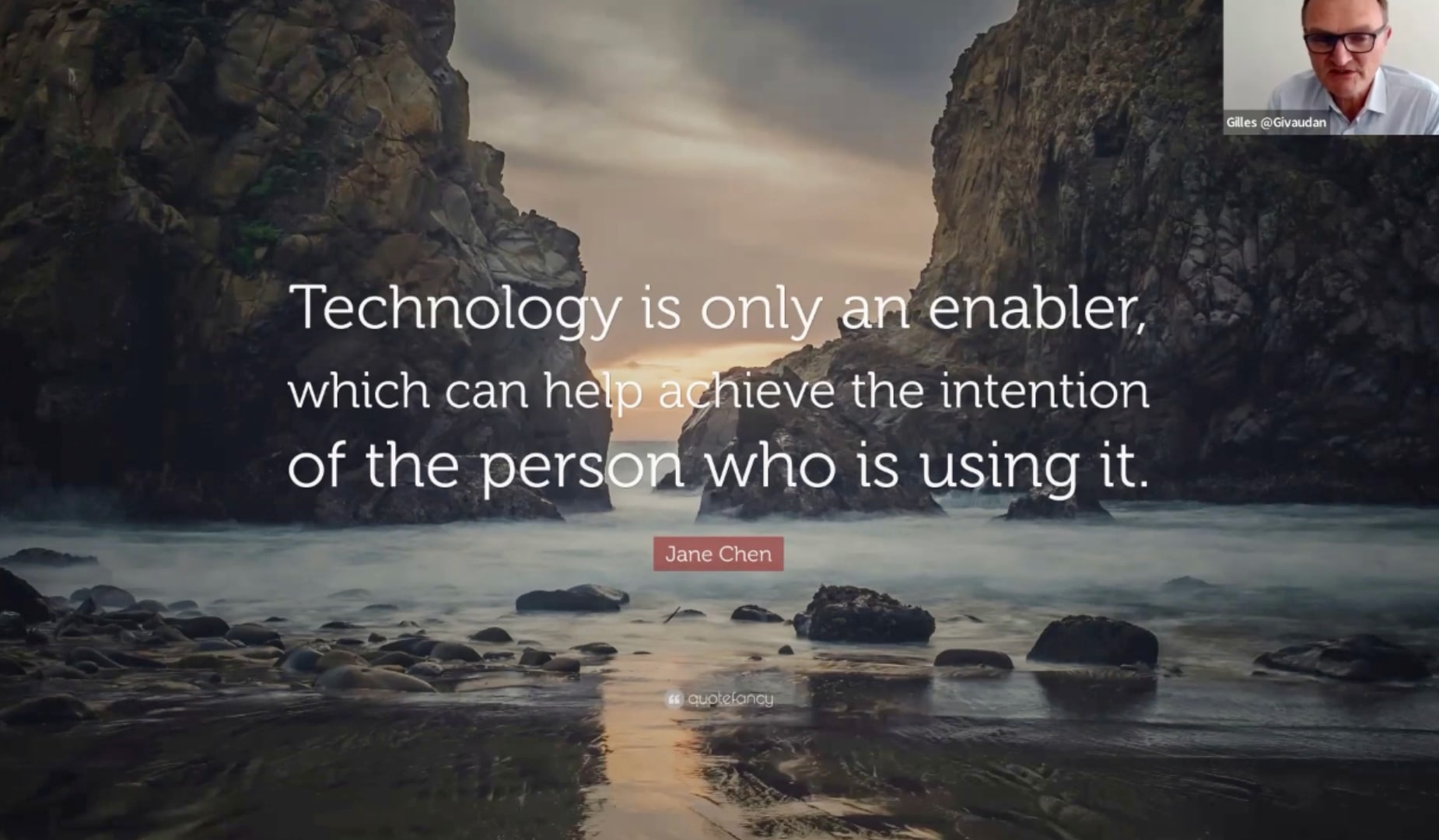 nutriMenu.ch: Measurement is the key to impact
The final speaker was Maryam Yepes from nutriMenu.ch. Nutrimenu is a digital monitoring tool that delivers traceability and transparency in nutritional quality and environmental impact of meals served in collective restaurants, such as school cafeterias. Maryam explained how the nutriMenu and ecoMenu apps help cooks make better nutritional and sustainability choices while giving consumers more insight into what they eat.
'It was really surprising from the get-go to see how easy it was to help chefs transform their practices. We realized it was simply because they didn't know they had too much salt in their food. When they got the information, they put in place the measures needed to improve.'
– Maryam Yepes, Founder, nutriMenu.ch
Of course, Maryam faces challenges. Some organizations don't consider measuring and monitoring nutrition and environmental impact a priority, while others are simply hesitant to adopt new tech. But nutriMenu.ch shows that when you measure something, you can manage it – and make an impact.
Challenges and solutions
The final part of the event was a Q&A where our audience could put questions to our speakers. Replying to a question about how organizations respond to change, Ben told us that change is happening, but not fast enough. Cultural and operating models are ingrained in organizations. In many cases, the people are receptive, but the structures are not.
Many people in the audience wanted to know how Ricardo actually gets his QR codes onto bottles of wine or boxes of coffee. The answer is that it depends. Each project is different and requires a lot of scoping work before you can go live. However, Ricardo revealed that they're often applied as an extra label to the product. Some plants will have a small inkjet printer somewhere along the line to print the QR code, which can then be added to the product.
Over to you: A call for projects
At SFNV, we believe that we can only succeed in the smart food era if we work together. So, we invite Swiss Food & Nutrition Valley members to submit collaborative project proposals that can shape Food Systems 4.0. Once we receive your proposal, we'll get in touch and see how we can work with you to get your idea off the ground, driving purpose-driven innovation in this space.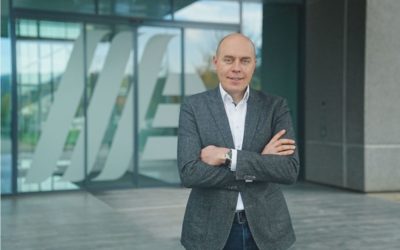 Jérôme Meyer is the Country Managing...
Join the Swiss Food & Nutrition Valley ecosystem and be partof the journey!