The Canton of Fribourg Launches its First Agri-Food Strategy Projects
In January last year, the Fribourg State Council approved a new Agri-Food Strategy. Now they're launching three projects to bring their flagship programs to life.
FRIBOURG, January 17, 2022 — Swiss Food & Nutrition Valley member, the Canton of Fribourg, has a strong agri-food sector ecosystem. Both agricultural and industrial, with a dense network of agri-food SMEs and leading national and international companies, the canton processes nearly a quarter of Swiss agricultural products. Fribourg's Agri-Food Strategy illustrates the need for a new way of thinking, requiring a profound changes on the part of all actors in the food system to enable us to move towards a more sustainable and a circular economy.
The 3 Flagship Programs
The strategy identified three flagship programs, designed to promote systemic solutions that reflect all local stakeholders' needs:
Flagship program 1: "Food & Farm Living Lab"
Flagship program 2: "Biomass Valorization"
Flagship program 3: "Agriculture & Industry 4.0"
The approach
Back in September, Swiss Food & Nutrition Valley member, Food & Nutrition Cluster, organized a participatory co-creation process that brought together academic and private representatives to present ten projects. The project committee (Copro), with representatives from the Food & Nutrition Cluster (CFN), Grangeneuve, the HES-SO Fribourg and the Fribourg Development Agency (FDA), then chose three projects and two sub-projects to bring the Flagship programs to life. Project kick-off meetings will take place in the next few days.
The three projects
Food & Farm Living Lab
I. Setting up the Food & Farm Living Lab
The Food & Farm Living Lab aims to support actors of the agricultural, food and nutritional economy in the canton of Fribourg to develop innovations. The project will be split into two subprojects:
Development of a pilot project exploring links between information and consumer behavior relating to food choices. This project is intended to be global and will also address health and nutrition, innovation and the potential of local production
Creation of an innovation voucher mechanism for agricultural and food actors with a call for projects.
Biomass Valorization
II. Functionalized proteins from biomass and agri-food co-products
This project will aims to increase the attractiveness and sustainability of existing value chains in the canton through innovative intermediate and finished food products, tailored to consumer demand more for healthy and sustainable products.
Agriculture & Industry 4.0
III. Optimized nitrogen fertilization
This project will use of agricultural data and imagery to optimize fertilizer quantities to increase crop yields while reducing nitrogen emissions into the environment.
Find out more about Fribourg's Agrifood Strategy here.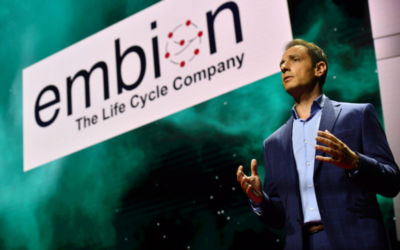 Valley member Embion has made it their...
Join the Swiss Food & Nutrition Valley ecosystem and be partof the journey!