A woman's place is in the (Swiss) food innovation ecosystem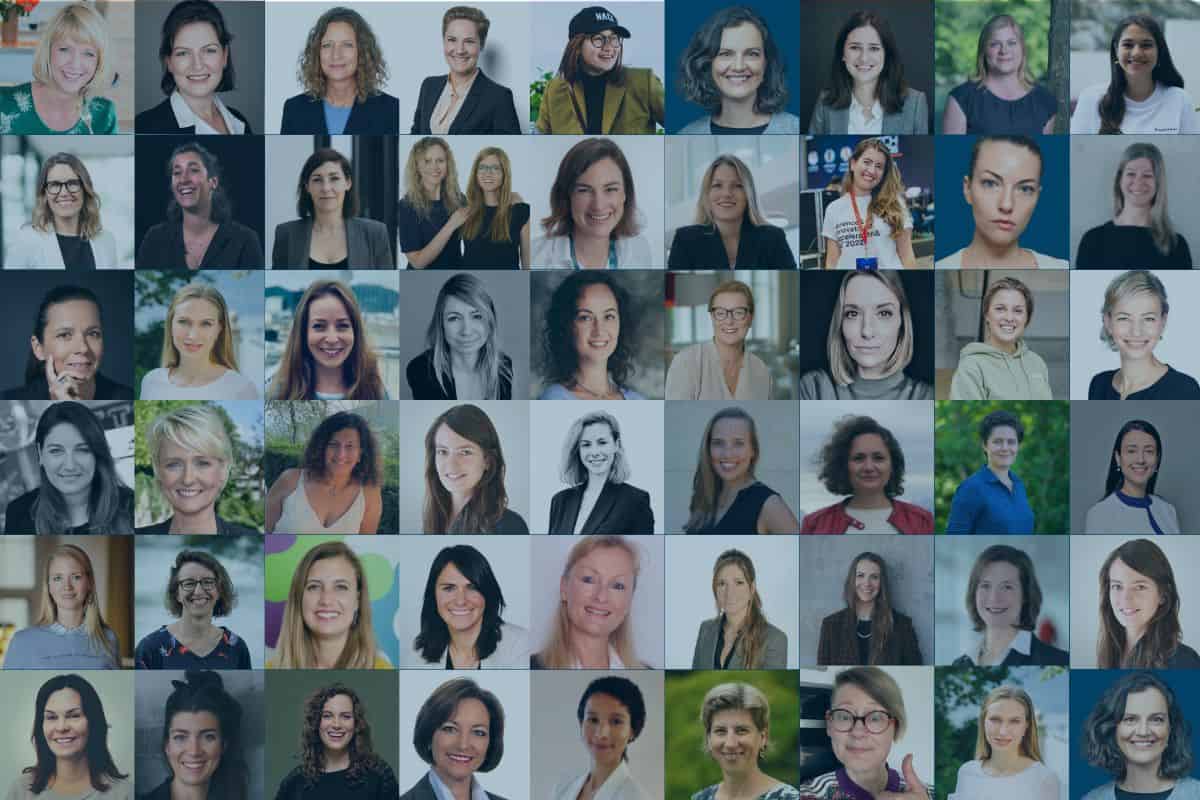 A woman's place is in the kitchen? Today, it's most definitely in the food innovation ecosystem! But if you've just recently qualified or you're considering a career change, it can be hard to know how to get started. So for International Women's Day, we've crowdsourced some inspiration for you. We asked Valley partners to offer some advice to women (and, well, all people!) who are eager to shape the future of food. Here's what they said. 
"Lead with kindness, be bold with your ambitions and goals, and strive for the exceptional. Our food system is complex, fixing it will require empathy, long-term commitments, and demand the best of us. When the motivation drops, take the time to recharge, reach out to your peers or friends, and don't forget the long game!"
– Emilie Dellecker, Founding member, Community & Marketing, FoodHack

"Don't be afraid to share your idea with more knowledgeable and experienced people. Their feedback can help you to overcome lots of challenges when establishing and growing your business."
– Olga Dubey, Co-founder & CEO at AgroSustain
"Some time ago I came across the following quote from Astrid Lindgren`s Pippi Longstockin: "I have never tried that before, so I think I should definitely be able to do that." I love this quote, as we're are often full of self-doubt, telling ourselves that we cannot do this or that. But the boldness and utmost confidence expressed by Pippi is exactly how we should embrace new challenges. Be bold and wild and wonderful and enjoy what you do."
– Ivonne Blossfeld, Outreach & Research Manager, World Food System Center, ETH Zürich
"Impact and networks are the key words. Impact, because this is what drives my daily activities and networks, as none of us can make it alone. So whatever your gender is, let's work together and find constructive solutions for a more sustainable foodtech ecosystem!"
– Suzanne Hraba-Renevey, President & co-Founder, BusinessIn
"Be brave, be curious and speak up. As women we often don't believe our voice is important or are concerned we don't have the right answer. But there is no perfect answer or stupid question. It is scarier in your head than in reality, so take the plunge and don't let anyone discourage you from that."
– Breda Gavin-Smith, Director Public Health Nutrition, Sight and Life Foundation.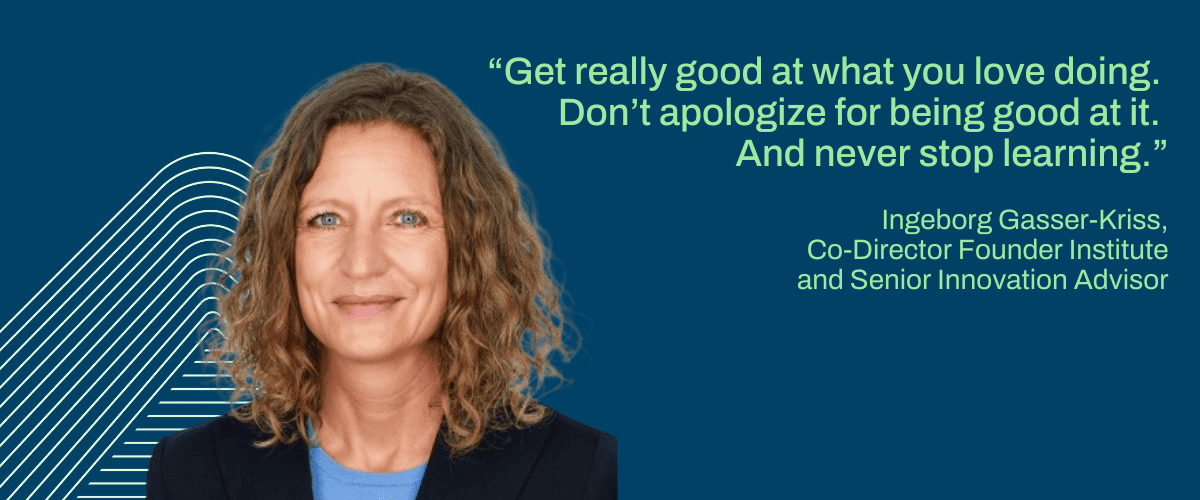 "The future of our food system requires more women in innovation. If you have an idea, passion and energy to drive a sustainable impact, there are no limits to what you CAN achieve. Be bold with your vision. Be humble in the steps you take to reach it. And most importantly – have fun!"
– Olga Guerous, Founder and CEO of Innopearl  
"Reach out to those who might have achieved something you admire and ask them to share any advice or insights on how they did it, the challenges they faced and the lessons they learned on the way. I've found that people are far more open to helping and sharing than we might imagine and there are many gems of learning to be found."
– Geraldine O' Grady, Head of Sustainability – Taste & Wellbeing, Givaudan
"Life is ultimately about growing, testing new ground, and learning as you go. Looking to the future, new requirements in the food and education sectors will constantly invite us all to change and adapt again and again."
– Dr. Carole Ackermann, President EHL Foundation and Holding
"It can be intimidating to switch or start new career paths. As a newcomer in nutrition, I can attest that those in the nutrition ecosystem are kind, passionate, supportive, and dedicated to their work; we strive for ethical and effective nutritional innovations aiming to end malnutrition and improve human and planetary health–no need for intimidation in this space. Your ideas are welcome!"
– Dr Jacquelyn Bedsaul, Nutritional Immunologist, Sight and Life Foundation 
"We are in the decade of climate action, our emissions need to halve by 2030. The food system is one of the most powerful tools to bend the curve in the other direction. By disrupting and optimising the food system you have the opportunity to have a great positive impact on both people and planet. They told us that a woman's place is in the kitchen, and it is, the kitchen is now just way more complex and powerful than the one they imagined for us! Be humble, but know your worth and believe in your own capabilities. Your legitimacy will be questioned, you will be questioned – learn from it but don't let it stop you. There's no one better suited than you to drive the change we so desperately need!"
– Maéva May & Tora Löf, Co-founders, COOS Change Agency
"To develop a more sustainable world we need more conviction, passion and creativity. These human skills are just as essential as what we learn during our studies. They're the values ​​that guide our actions to reinvent the food we eat, the way we relate to our natural environment and the way we enjoy our meals. So dare to take the first step and join us: it's time!"
– Julie Schüpbach, Marketing and Project Lead, Agropôle  
Welcome to the exciting and complex world of food and nutrition! My biggest piece of advice is to embrace discomfort. Don't be afraid to try new things, even if you're not sure you can do them. Raise your hand and volunteer for opportunities, even if they seem daunting. Surround yourself with people who will support you as you stumble and make mistakes, and be humble enough to learn from those experiences. Remember, bravery is simply fear-walking. So explore the unknown, remain humble and lift up others along the way!
– Kesso Gabrielle van Zutphen-Küffer, Director of Science, Sight and Life Foundation
"There has never been a better time than today to work on creating better ways to produce and consume food: It's extremely urgent for the survival of our planet, there's a great wealth of knowledge about how to do it, and there's a lot of capital available to turn innovative ideas into profitable businesses. If you feel a passion for this purpose, the food business is the place for you to bring your talents and experience. Now."
– Eliana Zamprogna, Co-Founder, Yumame Foods AG
 "Have you ever thought about the "wonder" of food on your plate? Through how many hands it has passed and been processed? How can it possibly taste so delicious even without seasoning? What resources are necessary until it lands in your mouth? How many emotions, fights and loves are connected to it? I'd like to think about food as a miracle, that has the ability to nurture us, let us & the planet stay healthy and connect to others.  I could not imagine a better space to be active in!"
– Marina Helm Romaneschi, Marketing & Strategy, Swiss Food Research & Swiss Food Ecosystems
"Remember: your voice is your power! Sometimes business, work, and even the innovation environment could cause fear and anxiety since role models are often men. When you feel like that, please take a deep breath, be bold, and remember how capable you are! Remember that you drive the change and inspire our female colleagues and the next generation to experience a more diverse and equal world."
– Bianca Campos, Deputy CEO and Program Manager for Innovation and Startups, Swissnex in Brazil
"Every journey begins with the first step. Think positively and don´t be afraid to take a risk. Embrace a challenge and enjoy what you do."
– Sviatlana Siankevich, CTO, Embion Technologies 
"Don't hesitate to show weakness! Being a good leader means being human. By showing that you're not always perfect, you encourage other women to take on more responsibility without thinking they need superhuman powers."
– Malin Borg, CEO, Swissnex in Brazil
"In an entangled world, we must think interconnectedly if we are to address human health and environmental degradation simultaneously. How can we feed the world's growing population healthily, while sustaining or even revitalising the ecosystems around and within us? No matter which positioning any F&B company has – feeding the world sustainably has to be at the very core of its values and doing."
– Julia Lisibach, Head of New Business & Innovation, Mövenpick Fine Food 
"Curiosity breeds innovation. Wonder, ask, try. Only by empowering women to try, create, and innovate, can we achieve the transformation needed to create a sustainable and equitable food system."
– Dr. Jeanne E. Tomaszewski, Communications Manager, World Food System Center, ETH Zurich
"Drink 50 cups of coffee (or tea)! Draw up a list of people you'd like to have coffee with, share your idea, ask for their advice and ask for an introduction to someone else. By the 50th cup your compass needle will have identified your north star! People are generous, and love supporting and sharing their knowledge."
– Christina Senn-Jakobsen, Managing Director, Swiss Food & Nutrition Valley

Looking for talent or your next opportunity?
Check out the Valley's new job platform.

We recently welcomed HES-SO - the...