How Foodetective is making life easier for thousands of European restaurants and F&B companies
Valley member Foodetective lets F&B businesses manage their entire tech stack from a single OS and platform through a Unified API. After closing a $2 million seed funding round last year, the team has just been nominated for the TOP 100 Swiss Startup Awards.

Hello. Tell us a bit about yourself.
My name's Verónica Stacey and I'm the CMO at Foodetective. I'm very passionate about all things hospitality. I joined Foodetective two years ago now and I've seen the team grow from under 10 employees to over 20 today. I develop, manage and oversee all our marketing activities.
Can you pitch Foodetective in just 20 seconds?

Many F&B businesses use 12+ softwares to manage their day to day business activities – from delivery and stock management to HR, marketing and finance. But this means that data is often fragmented across these systems. Foodetective powers restaurants' digital transformation through a Unified API and enables them to bring together all the data they need on a single platform.
What gets you out of bed in the morning?
Personally, I love opening the window and letting the sun in..! But in all seriousness: our mission. We want to make restaurant owners' and managers' lives easier. As a startup we have to get up every morning and continually figure out the best way to do this.
Most of our team members have a background in hospitality, but we all consider ourselves epicureans. We're all very passionate about building a technology that helps restaurant owners to work smarter, so that they can focus on what matters most: creating great food and an outstanding customer experience.
What does a typical day at work look like for you?
Every single day is different. We have offices in Geneva and Paris, but I work remotely from Spain. So most days will usually include at least a few calls. This might be reviewing our strategy with the executive team or chatting through ideas for business development with colleagues. In the afternoon I usually connect with the marketing and design team to oversee progress on priority projects for the month and take some time to tackle individual items on my to-do list.
What were your key achievements in 2021?
2021 was a very exciting year for us. In May, we closed a $2 million seed round. This allowed us to optimize our product and strengthen our universal API that enables our partners to integrate their solution into Foodetective seamlessly. In September, we even bagged a place in TNW's list of Europe's hottest scaleups.
Throughout the year, we also started working with lots of great new partners, including Coca-Cola HBC and Nestlé Pro and successfully implemented over 65 integrations, working alongside many market leaders like Uber Eats and LightSpeed.
What projects are you and your team working on this year?
This year we'll be focusing on opening our API and developing our intelligence feature. This will automate as many admin tasks as possible to save our clients time and money and maximize revenues and margins by using historical data and patterns. We hope that this feature will help us become the online smart manager of every business we serve. We're also continuing to fundraise to accelerate our rollout. This year, we'll be looking to raise $4 million.
Tell us about how you work with others in the ecosystem to innovate?
Given that we're building a Unified API for the RestoTech industry, partnerships are at the heart of our work. All kinds of software solutions as well as wholesalers can integrate into our platform. We've recently started working with Reckitt. Opening up our API will make partnerships and integrations even easier. Our operating system spans the entire value chain from suppliers to end customers through integrations. So we can offer F&B businesses a holistic solution through partnerships.
How do you support the Swiss ecosystem beyond your core business offer?
We do quite a few things! We organize internships and training sessions with hospitality schools or the Global Food Venture program. We also partner with companies that don't necessarily have a technology to integrate but provide services that contribute to the ecosystem such as Biohuile. We're always happy to share our knowledge on what is happening in the industry.
How can the SFNV community help you achieve your goals?
We're always eager to connect with new partners. We work with a huge range of companies across the food ecosystem from wholesalers and delivery partners to companies offering food waste solutions. If you'd be interested in finding out more, please do reach out. 
SFNV will soon be launching its third Impact Platform on Food Systems 4.0. What's your perspective on the role of digitalization in shaping the future of food? 
Today, digitalization is present from the ground or root, to suppliers, to software, to the end user. It's clear that the entire supply chain is rapidly shifting from paper-based to digital solutions. I predict that the future of food will be based on data-driven insights – meaning less fragmentation and more more engaged and informed stakeholders. 
Tell us something we didn't know about your company.
Our company has a B2C page: Foodetective.co which lists over 20,000 restaurants across Europe. Restaurants that have a profile on our software also have a consumer-facing page on our directory to boost their visibility through content and to showcase all their user-facing services. This page is automatically filled with information they've provided in the software, like their menu, opening hours and the delivery platforms they use and is enriched by our community of content creators who write reviews and guides.
Connect with Verónica on LinkedIn or visit the Foodetective Business website to find out more.
Interested in food system digitalization?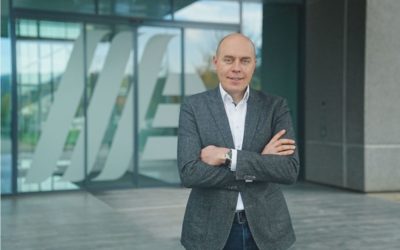 Jérôme Meyer is the Country Managing...
Join the Swiss Food & Nutrition Valley ecosystem and be partof the journey!