MagicTomato invites supporters to invest in its nationwide expansion
SFNV member MagicTomato has made it their mission to democratize access to local and sustainable food. Now they're inviting both Swiss consumers and institutional investors to invest in their solution to strengthen food ecosystems across Switzerland.
The story so far
Back in 2016, Paul Charmillot had a vision. He wanted to create a solution that made it quick and easy for busy consumers to enjoy top-quality, local and sustainably-produced food. And with just CHF 60k in the bank and the support of tech innovation incubator Fongit, he did just that.
Initially this meant a lot of long days doing anything and everything to get the business off the ground – from tracking down the best local producers to developing the website, preparing orders and dealing with client queries.
But this upfront investment certainly paid off. MagicTomato has grown rapidly. Today, Magic Tomato's team of 40 provides local and sustainable food to over 5000 consumers across Vaud, Geneva, Fribourg, Thun, Bern, Yverdon, Biel and Neuchâtel and brought in over CHF 7 million of orders last year.
As a certified B-Corp, Paul and his team are also deeply committed to having a positive social and environmental impact. In 2021, their business activities averted 46 tonnes of food waste and made over 30,000 deliveries with a fleet of electric vehicles.
After a longstanding collaboration with Label Bleu, the two companies decided to join forces at the end of last year, strengthening the team's network and laying the foundations for expansion across Switzerland.
Investing in local food ecosystems
MagicTomato is now looking to raise CHF 1 million by inviting customers, supporters and more institutional investors to invest in their solution. Through a partnership with Taurus, Swiss residents can buy participation certificates using blockchain technology.
For Paul, this funding solution felt like the most natural fit for the platform: "Our customers are already shaping their local food ecosystems through their purchasing decisions. Investing in our platform alongside more institutional investors like Fongit is another way that customers can actively drive positive change and enable more Swiss residents to benefit from local and sustainably-produced food."
The campaign was launched on May 2 and potential investors can choose from three packages, starting from just CHF 150. 
Big plans for 2024
The MagicTomato team will use the funds raised to support the structural and digital development of the platform and to accelerate the creation of new ecosystems across Switzerland.
This year, the team plans to expand to German-speaking Switzerland, Chablais and Valais but has also set their sights on developing networks in Ticino in the near future. By 2024 they aim to pay out more than CHF 22 million to local artisans and producers. 
Paul is confident that this development will enable MagicTomato to make a bigger contribution to supporting local and sustainable food systems: "We believe that sharing our governance and capital with all our stakeholders will drive our mission-driven company forward and ultimately generate more impact."
Follow MagicTomato on Linkedin or view their fundraising page to find out more.
Interested in food system digitalization?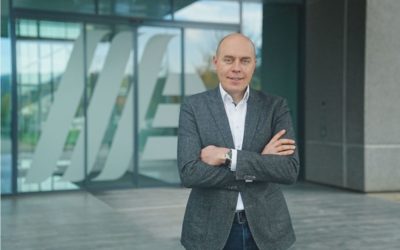 Jérôme Meyer is the Country Managing...
Join the Swiss Food & Nutrition Valley ecosystem and be partof the journey!