Meet the woman tackling a neglected environmental challenge by transforming urine into fertiliser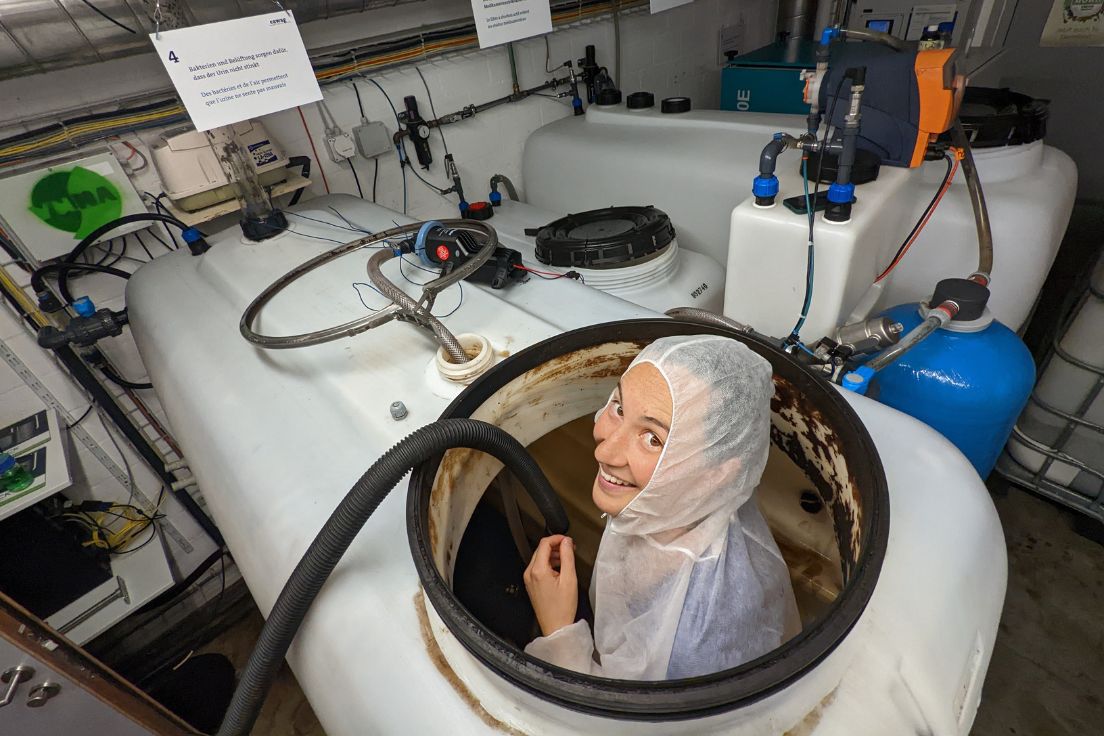 When Nadège de Chambrier decided to study environmental engineering she didn't think she'd end up talking about urine all day long. Her startup has created a unique solution that relates to two resources that are critical to effective food systems: water and fertiliser. And now she's gearing up to set up three treatment systems in France, Switzerland and Germany as part of a joint programme with the European Space agency.

Tell us a bit about you and your VunaNexus story.
My name is Nadège de Chambrier and I studied Environmental Engineering at EPFL and ETH Zurich, specialising in wastewater treatment. About 2 years ago I joined forces with my brother David and two other co-founders Kai Udert and Bastian Etter and together we founded VunaNexus AG. 
Kai and Bastian had previously been researching how to recycle the nutrients contained in urine for around 15 years with the help of the Eawag (the water research institute of the ETH Domain) and the Bill and Melinda Gates Foundation, so we had a great deal of knowledge and practical research to draw on. 
I've been working on developing and implementing this urine treatment technology for 5 years now. During the first lockdown, David, who had a background in business, started helping us to build a business case out of it. Then we decided to go ahead and found a company focused on selling the technology. 
Describe what your company does in a single sentence.

VunaNexus uses a patented technology to transform human and livestock urine into two valuable products: an authorised NPK fertiliser, Aurin,  that is free of all dangerous pollutants and water that can be reused, while drastically reducing ammonia emissions and water pollution.

What gets you out of bed in the morning? 
CO₂ has become "the" topic when it comes to sustainability, but there are many other issues that impact our ecosystem more than global warming – and of which most people are not aware.  
If we look at the planetary boundaries, the cycles of nitrogen and phosphorus have been radically changed by humans and this has a devastating impact on the environment. Raising awareness of the multiple problems linked to wastewater and sanitation, and recycling these precious nutrients, as well as trying to change the linear system we're currently working within thanks to great technology – this is what gets me up in the morning.  
It's not always easy to talk about pee and poo, but people are actually really interested in better understanding the challenges associated with this topic, and appreciate that everyone can contribute in their own way to closing the nutrient cycle.
What key milestones have you hit so far?
So far, we've bootstrapped the business. But we recently got accepted into a business support program run by the European Space Agency. This will help us install a treatment system at the European Space Agency headquarters in Paris, one at BlueFactory in Fribourg and one in the region of Berlin in the context of the projekt Zirkulierbar. 
At the moment, we don't think that external investment is the right choice to accelerate the adoption of the technology, as we need to make sure the market can absorb the fertiliser we will produce. Over the next two years we aim to prove that our model can scale, that we can resell fertiliser locally and that these treatment plants are financially viable.
What projects are you and your team working on at the moment? 
We have an ongoing project with Innosuisse that aims to test our technology on animal urine on a larger scale. We have a test reactor that can process up to 3000 litres of urine a day. When it comes to reducing ammonia emissions, this could be a huge step for many farms all over the world. It could also help to tackle micropollutants including antibiotics and other drugs before spreading the manure on fields. 
How do you collaborate and support others in the ecosystem? 
We're currently new to the ecosystem so we haven't had the chance to support other Valley partners yet. But we have lots of knowledge and a strong network around wastewater and sustainable fertilisers that we would be more than happy to share! 
What support could the Valley community offer to further your work?
We're looking for contacts that would be interested in experimenting with a novel fertiliser, and would love to connect with anyone open to collaborating around wastewater recycling more generally. Please get in touch! 
Tell us something we don't know about your company.
Vuna started as a project in South Africa to tackle two connecting issues that affected decentralised communities: how to treat their wastewater and how to find an economical fertiliser for their fields. The word Vuna means harvest in isiZulu. First there was Vuna GmbH, a company specialised in decentralised sanitation alternatives, and then we created VunaNexus, a sister company. 
Connect with Nadège & David on LinkedIn. 
Never miss a Swiss food innovation morsel.

We recently welcomed HES-SO - the...