SFNV launches its Impact Platform on Sustainable Protein
Last Friday, 100+ attendees from 12 countries came together at a roundtable event to mark the launch of the Valley's Impact Platform on sustainable protein. SFNV is now inviting members to submit projects to drive forward innovation in this space.
Innovating for impact on sustainable protein
SFNV Impact Platforms are all about collaborating to unleash purpose driven innovation around some of the world's most burning food and nutrition issues. Last Friday, we held a roundtable event to bring together the Swiss and global food innovation ecosystem to discuss the latest challenges, trends and opportunities in sustainable protein.
We were thrilled to be joined by three leading speakers and 100+ attendees from over 15 countries – from France, Spain and the UK to Indonesia and Brazil. We heard that even though there's a huge amount going on in this space already, collaboration is needed to translate existing knowledge and the latest technologies into new market opportunities. Watch the replay below or read on to find out more about what was covered in the session.
Planted: Scaling plant-based meat through science and collaboration
The first of our keynote speakers, Lukas Böni from Planted, set out how his company – producing delicious meat from alternative proteins – has scaled rapidly since setting up in 2019. After securing CHF 43 million in funding and growing to a team of 172, Planted now sells in six countries across Europe in 4200 retail locations.
"Scaling is always at the core of what we do. It's in our DNA. We want to make something that tastes amazing, then figure out how to scale it and bring down the price so it has impact"
– Lukas Böni, Co-founder, Planted
As team lead for science, Lukas explained how they use bio-inspired technology to create large cuts of meat in many different shapes and sizes. While giving attendees a sneak peek at the prototypes of their next generation products, Lukas explained that everything they do is focused on scaling and bringing down their prices to broaden their products' accessibility. Finally, he touched on the role of the Swiss Protein Association, co-founded by Planted and three other leading Swiss food actors, to create a positive political framework to drive alternative protein innovation in Switzerland.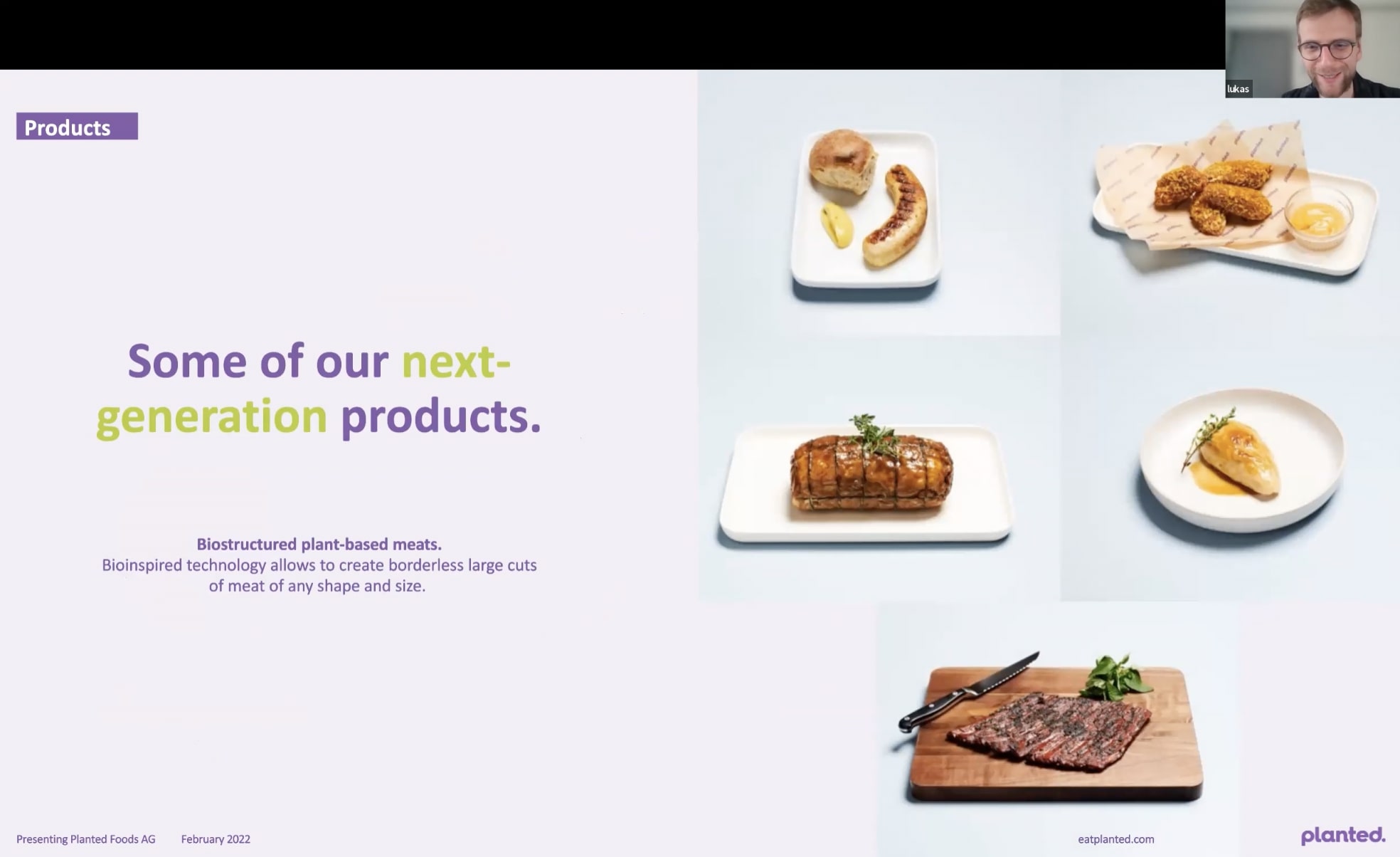 Bühler: Insects shaping the future of feed and food
Mariana Nieto de León from Bühler Group was then invited to share her insights into the opportunities in the insect protein market. She highlighted the challenge of feeding a growing population and stressed that dietary shifts will not happen overnight. Solutions will have to look at reducing the environmental impact of livestock, while simultaneously developing great tasting meat and dairy alternatives.
"We're not all going to become vegan. We need both more sustainable food production when we produce meat, and at the same time we need to create great tasting meat and dairy alternatives."
– Mariana Nieto de Leon, Product Manager, Bühler Group
Insect protein production may have a significant role to play here. Mariana explained how insect farming can add value back into the food value chain by transforming side streams that would otherwise be wasted into food ingredients for animal feedstock, human consumption or fertilizer for crop production. Bühler initially forecasts growth in pet food, aquaculture and chicken feed, but predicts that consumers will also gradually begin to accept more insect-based food.
Big Idea Ventures: Investing in emerging innovations
Having invested in 80 companies in the alternative protein space – and evaluated around 5000 – Andrew Ive from Big Idea Ventures shared his overview of the emerging trends and opportunities on a global level.
Walking us through the three categories that make up the focus of his New Protein Fund, he noted that it's not just about "center-of-plate" products and ingredients. It's also about the ecosystem drivers – like technology and distribution – and the materials and processes involved in creating the end products.
"It's the scientists, engineers and entrepreneurs that will help us find solutions. They have the vision, capability and can bring the pieces together, in collaboration with corporates and other ecosystem actors"
– Andrew Ive, Founder and Managing Partner, Big Idea Ventures
In relation to plant-based solutions, a host of new ingredients – like lupin, mycelium and RuBisco – are coming to the fore, along with novel technologies, like tissue engineering and shear cell technology. When it comes to fermentation, Andrew highlighted the role of bio-identical protein, upcycling waste streams and companies creating protein out of CO₂. In relation to cell-based technology, Andrew called out the elimination of fetal bovine serum as a key development that could lead to huge cost reductions in this area.
Novel foods, NOVA classifications and insects on our dinner plates
The final part of the session was dedicated to discussion with attendees. In response to a question about novel food applications, Lukas revealed that Planted takes a hedged approach that allows them to have impact and scale as fast as possible. He also sees redefining the perception of processed food as a key part of his role. Many of the foods we eat every day are processed – like bread and cheese – and discussions with consumers often reveal that their main concerns are around additives.
Finally, our experts gave their perspectives on the potential of insects for human consumption. Andrew explained that innovation tends to come in waves with one market leader driving change and encouraging others to become active in this space. His discussions around this topic indicated that that US and European consumers tend to try insect-based food as a novelty, but won't tend to integrate it into their diet. He therefore sees the biggest potential in Asia and Africa, where insects are already an accepted part of the existing food culture.
Over to you: A call for projects
As the recent IPCC report showed, sustainable protein will play a critical role in adapting to climate change and the window of opportunity to secure a liveable and sustainable future is rapidly closing. This event highlighted that there's a huge range of technical developments opening up new possibilities in the field. At the same time, scaling and achieving price parity remain key sticking points.
SFNV believes that the future of food cannot be created in silos. That's why we're inviting Swiss Food & Nutrition Valley members to submit project proposals on this topic by April 15. The collaborative work will then kick off in a SFNV Garage Session in May, where we will work alongside members to co-create and drive purposeful innovations in this space.
Valley Partner Foodetective, a...
Join the Swiss Food & Nutrition Valley ecosystem and be partof the journey!