Swiss IoT-powered food safety platform EEat is looking for partners to develop new traceability solutions.
Growing a startup that serves the food service industry in the midst of pandemic-driven mass closures takes courage. But this is exactly what the EEat team did after spotting a gap in the market. Working alongside customers from day one, they've developed an IoT-driven platform that makes it simple to comply with food safety regulations. Now they want to connect with partners to scale up and develop new traceability solutions.
Hello. Tell us a bit about yourself. 
Hi, I'm Jean-Charles Fosse. I co-founded EEat with Johann Bigler and Gaëtan Valentin back in 2019, after a fruitful exchange with Eldora, one of Switzerland's leading caterers, helped us spot a gap in the market. Today I'm in charge of the project development.
Describe your company in a single sentence. 
EEat is a platform that uses IoT sensors and a mobile app to help food processing companies comply with food safety regulations (HACCP). We do this in three ways: by digitizing daily checks, automating cold chain management with temperature sensors and simplifying industrial traceability through QR codes.
What gets you out of bed in the morning? 
The fact that our solution really makes a difference for our customers – over 300 food service and food processing partners in Switzerland, France, Belgium and Gabon. We're making their lives easier while ensuring that their customers remain safe. 
I also love working in a startup. Building a project from the ground up is so exciting. The whole EEat team is so focused on solving new challenges and it's really rewarding to constantly find new ways to add value for our customers. 
What does a typical day at work look like for you? 
Every day is different! In the morning, I usually check the key numbers, make sure that everything is working as it should be and respond to customer emails. Later in the day I often have meetings with potential customers or partners or take some time to assess and rethink our strategy. We're also in the process of recruiting new team members so it can sometimes be a challenge to juggle my team management, sales and customer support tasks. But I love how varied my role is. I never get bored! 
What were your key achievements in 2021?
Given that our clients work in the food service sector, the pandemic obviously posed some unique challenges for us! But once we'd had a chance to regroup, it actually forced us to diversify our offer and helped us reach more customers. In addition to working with restaurants, we now also support butcheries, bakeries and food processing companies. Thanks to these developments, our platform was able to measure over 9,000,000 temperature data points and facilitated over 600,000 food safety checks in 2021. 
We were also able to grow our team by recruiting to some key roles, which was extremely valuable. We're excited to see how things progress in 2022. We're hoping that the reduction in Covid-19 restrictions will mean more stability and less anxiety for our customers.
What are you and your team working on this year?
We're working alongside a number of companies to improve our industrial traceability system. We want to make it possible to track each step in the food transformation chain – including food batch number and processes – from receiving the goods to the final product. We recognized that medium-sized companies were looking for a solution here but there was a gap in the market. We're also always working on improving our existing features and UX in collaboration with key partners like Eldora. 
Tell us about how you work with others in the ecosystem to innovate.
EEat was actually born out of a collaboration with Eldora. Eldora had always been interested in our technology and how it could help them improve their processes. After a few productive meetings, we decided to work alongside them to explore how our technology could help them tackle their issues.

From day one, Eldora acted as an expert partner and openly shared their food safety knowledge with us. They took the time to train our team and talk us through their biggest challenges. We're really grateful that they were willing to put their faith in a young startup. It was a real game changer for us. This collaboration gave us the knowledge and resources to transform EEat into a solution that could offer real value to a broader range of customers.   
But that was just the start of our journey. Each company's food safety processes can vary significantly, so we had to make sure that the system was responsive. Given our positive experience with Eldora, we now always work alongside partners to develop new products and features. They bring their topic knowledge and we bring our technology. Then we brainstorm and come up with a solution that we can test and improve together. We aim to create the first version as quickly as possible and then iterate as needed. This could be refining the user interface or adding new features. Ultimately, the customer knows what they need best. It just makes sense to work alongside them. 
How do you support the Swiss ecosystem beyond your core business offer?
One of our most important values is to be honest and transparent. We love to find opportunities to share our experiences wherever we can. We also recognize that we're just a small part of a huge food innovation ecosystem. That's why we're big fans of collaboration. Some challenges just can't be tackled in silos. Sometimes our customers need broader support and we always do our best to connect them with suitable partners. This is always a win-win situation. 
How can the SFNV community help you achieve your goals?
We're looking forward to the launch of Swiss Food & Nutrition Valley's Impact Platform on Food Systems 4.0 to connect with other Valley members that are interested in developing collaborative projects in this space. We're particularly looking to connect with small and medium size food processing companies that want to digitalize or upgrade their traceability solution.

Tell us something we didn't know about your company.
EEat is a Spin-off of ThinkEE, an IoT-based company specialized in helping companies deal with sensors and their associated data. So that's where the EEs in EEat come from. ThinkEE stands for: Think Ecosystem Efficiency.
Connect with Jean-Charles Fosse on LinkedIn or visit the EEat website to find out more.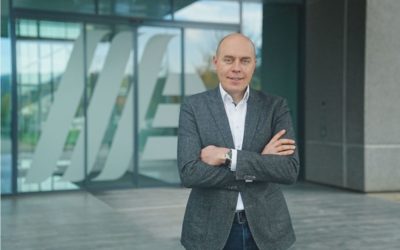 Jérôme Meyer is the Country Managing...
Join the Swiss Food & Nutrition Valley ecosystem and be partof the journey!